Disclosure: Lilinoe and I received two free tickets to the Freestyle Invasion tour from the cool cats at Hawaii Pacific Entertainment.
Last night Lilinoe and I put on our dancing shoes, well…the same shoes we wore to a wedding reception a few hours ago and boogied on in to the Neal S. Blaisdell arena. As we entered the parking lot, there were herds of folks walking from their vehicles to the…ugh, concert hall? Performing in the concert hall was George Lopez, but he doesn't outrank the bass and beats from the 80's.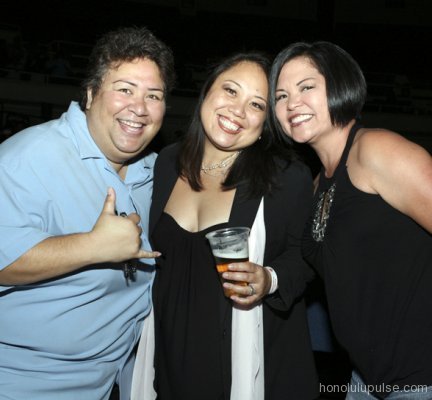 Since 2008 we've been coming to the concerts to hear some of our favorite songs, especially from the ladies. Last night, Timmy T, Trenier, Noel, and Shannon took us back to the time when frosted tips, mousse, and paisleys were stylin'! But, the best part of going to these concerts are running into old and dear friends. Check out some of the videos I quickly captured before putting my iPhone back into my pocket so I could sing along and cut up the dance floor.
Looking forward to the next one, yo baby, yo baby yo! More photos on Pulse.