The 2014 campaign season is upon us. Too early it seems? Actually, with the changes in the State of Hawaii Primary election and the options to walk-in or mail-in ballots well before the general election, strategically it's perfect timing.
My company Pono Media has been retained to provide community building strategies leveraging content publishing, content marketing, and social networking by the Ikaika for Hawaii campaign.
Here is why I support Councilman Ikaika Anderson as Hawaii's next representative in the US Congress:
Socially, he's liberal, specifically, he supports marriage equality and since I just became engaged this year, I'd like to marry in my home state.
Fiscally, he's conservative. Like my first bullet point, we could argue this one all day long. In a coconut shell, I see people as capable of creating their own abundance.
He's a member of Hawaii's next generation of leaders. We are in a transition, a passing of the guard if you will, and I want him on our team.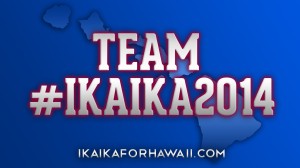 I am actively recruiting for his community building team, if you are interested in being part of the transformation of Hawaii, Get Involved.